Keeping track of equipment using GenoFAB
The Equipment Module is designed to keep track of instruments and other non-consumable resources used by laboratories. It is very similar to the supply module.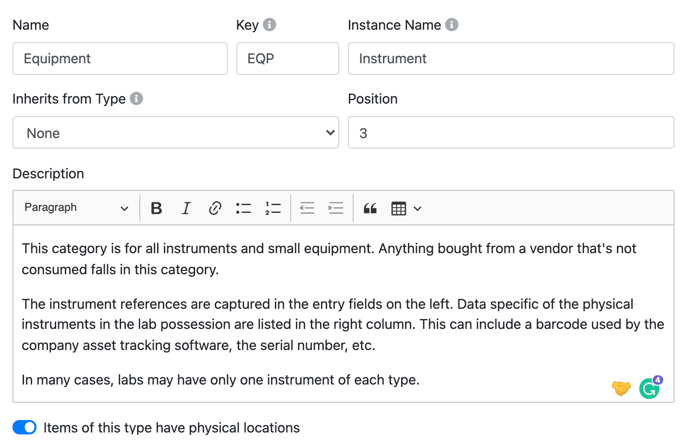 It's best to put this module up in the catalog, next to the Supply Module.
All entries include name and description fields that can be used to provide the equipment's common name and a general description of the type.

This module assumes that the equipment may be purchased from a distributor rather than directly from the manufacturer.

The picture field can be used to attach a picture of the instrument, which can help identify the equipment.
Note: used to keep track of any information that doesn't fit in another field.

PR, PO, and Order numbers: used during the purchasing process.

Status: Dropdown to indicate statuses like "In service, Out of Service, Surplused"

Asset Tag: Use this field to keep track of the barcoded tag used by your property management department.

S/N: Serial number. This may not be relevant for all equipment as some pieces of equipment are not serialized.
Precision Instruments
Precision instruments are a subtype of equipment designed for instruments that require periodic calibration. These instruments are managed by an employee who is in charge of assigning them to other employees and keeping them calibrated. The "calibrated by" field is used to identify the company in charge of calibrating them. This field is a link to the address book app used to keep track of all the vendors and external partners.
Since precision instruments tend to be sensitive and expensive, the instrument data include a field to specify the employee who has been assigned the instrument. It also includes the last time the instrument was calibrated as well the calibration expiration date.
Entry fields

Cal. Int. (mo): The calibration Interval field is a duration field.

Calibrated by: This is an input field pointing to a list of vendors.

Manager: This is a member field used to indicate who is in charge of ensuring the instrument is properly calibrated.

Instrument Fields

Assigned to: Member field used to indicate who the instrument has been assigned.

Last calibration and Calibration expiration date fields related to the instrument calibration.
Serviced instruments
This is a subtype of Equipment used for high-end instruments for which a service contract is available. This module assumes that these instruments are managed by an employee. Service contracts are managed at the instrument level.
Entry fields

Cost of the PM contract is useful to capture to evaluate the value of the contract.

Managed by is a Member field used to indicate who is responsible for the PM contract.

Instrument fields

At the instrument level, three fields are added to keep track of the contract start and expiration dates as well as the date of the annual preventative maintenance visit.